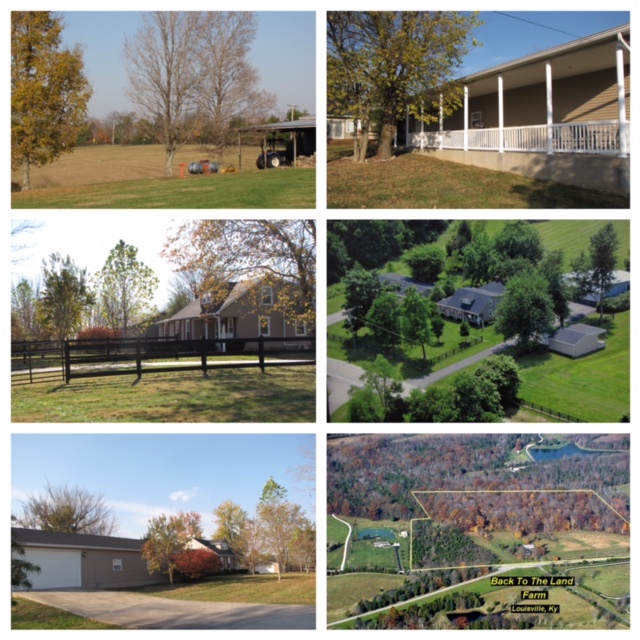 Welcome Friends
A number of years ago, we moved from the city to a small 32 acre farm in rural Jefferson County, Kentucky. We wanted to get back to basic living -or- Back to the Land ! We thought about a number of farm names, but settled on the name Back to the Land and registered it with the State of Kentucky. This web site is dedicated to rural living with many links related to this life. Fortunately, traffic in the Louisville area is not too bad and you can commute to and from the downtown area in 30 minutes. Our life reminds us of the old TV series "Green Acres". It can be hard work at times, but we love it. We hope some of the information on this site will whet your appetite for moving Back to the Land.
If you know of interesting sites we can add to the page, please email us at mail@backtothelandfarm.com
Directions to our farm from Louisville can be found by Clicking Here
The following three links contain various pictures of our farm. These pictures are about 1.5 meg each, so you may want to skip these if you are dialed in at 56kbs. ENJOY !!
The Parklands of Floyds Fork in Louisville, Kentucky
Link to Parklands of Floyds Fork
VIDEOS
45 minute video explaining the Farm Bill
Misc. Agriculture Links
Burley Tobacco Growers Cooperative
Kentucky State University Aquaculture
Kentucky Association of Fairs and Horse Shows
Kentucky Cattlemen's Association
Kentucky Certified Crop Advisors
Kentucky Clean Fuels Coalition
Kentucky Christmas Tree Association
Kentucky Corn Growers Association
Kentucky Dairy Development Council
Kentucky Feed and Grain Association
Kentucky Future Farmers' Association
Kentucky Forest Industries Association
Kentucky Goat Producers Association
Kentucky Limousin Breeders Association
Kentucky Nursery and Landscape Association
Kentucky Propane Gas Association
Kentucky Sheep and Wool Producers Association
Kentucky Santa Gertrudis Association
Kentucky Sheep and Goat Development Office
Kentucky Small Grain Growers Association
Kentucky State Beekeepers Association
Kentucky Vegetable Growers Association
Kentucky Veterinary Medical Association
Kentucky Woodland Owners Association
NASDA: National Association of State Departments of Agriculture
National Cattlemen's Beef Association
National Pork Producers Council
National Wheat Growers Association
Organic Association of Kentucky (OAK)
Across Kentucky (Kentucky Farm Bureau broadcast)
American Association of Equine Practitioners
Horsemen's Benevolent & Protective Association
Kentucky American Saddlebred Pleasure Horse Association
Kentucky Quarter Horse Association
Kentucky Thoroughbred Association/KTOB
Mountain Pleasure Horse Association
National horse shows (USA Equestrian)
Agriculture Compliance Assistance
Environmental Protection Agency
Governors Office of Agricultural Policy
Kentucky Agricultural Statistics Office
Kentucky Division of Conservation
Kentucky Department for Environmental Protection
Kentucky Department of Fish and Wildlife
Energy and Environment Cabinet
Natural Resources Conservation Service
Southern United States Trade Association (SUSTA)
US Department of Agriculture (USDA)
USDA National Agricultural Statistics Service
Forestry Links
USDA Cooperative State Research, Education and Extension Service (CSREES)
USDA Natural Resources Conservation Service
USDI Bureau of Land Management
U.S. Forest Inventory and Analysis
National Wildfire Coordinating Group
American Forest & Paper Association
Association of Consulting Foresters of American, Inc.
Center for Field Research at Earthwatch Institute
Certified Forest Products Council
Hardwood Plywood and Veneer Association
National 4-H Forestry Invitational
National Association of State Foresters
National Hardwood Lumber Association
Sustainable Forestry Initiative
Sustainable Forestry Partnership
Technical Association of the Pulp and Paper Industry (TAPPI)
Temperate Forest Foundation (TFF)
Urban Forestry Ecosystems Institute
Wilderness Information Network
California Forestry Association
Louisiana Forestry Association
Minnesota Forestry Association
Mississippi Forestry Association
New Jersey Forestry Association
North Carolina Forestry Association
Pennsylvania Forestry Association
South Carolina Forestry Association
Tennessee Forestry Association